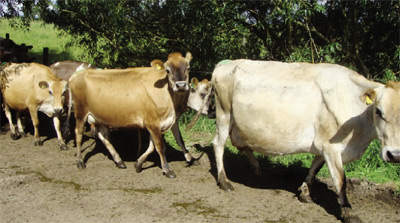 Geoff Murdoch, Heronslea Farm, Wanganui
Following on from the December / January trial conducted at our Wanganui farm I thought it timely to send you our thoughts on the product and "gut feel" results. I guess we need to set the back ground before I give you the "result".

"The winter and spring of 2008 was probably the worst experience for both my manager and me. The stocks came through the drought of 2007/8 in reasonable condition but were lighter than we realised, however the wet, cold winter and spring seemed to tip the stock over at critical times. At one stage in September we had 29 cows on the ground with acidosis this resulting in a 30% milk reduction for the September / October period. The herd seemed to take a lot longer than usual to lose their winter coats, it was as if they were on hold and needed a kick start.

When you first met with us you will recall 7 calves in the front paddock. You challenged us to give your product to them as it would assist them in getting over the ill thrift and persistent scours.

The product was given to calves on the meal and simply sprayed on the silage in the feed pad to the cows. After two weeks (see 'AFTER') the stock seemed to blossom, coats looked good and their hooves were shiny… something we had never seen before. The most interesting observation was what I call "the perfect poo" that is must have the consistency of good porridge with three circles. This is normally seen in autumn when a good balance of feed and stock contentment is achieved. This was seen in the yard and the paddocks.

While we cannot quantify a production increase without the use of a control group, I am happy to say the herd has maintained the same production through late December and January, and indeed we are in the "above average" group when compared to farms in the area.While this may not seem too great an achievement, you need to note this season is the first season back on twice a day milking after 4 seasons on once a day."