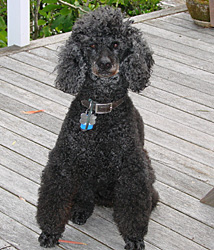 Robyn Fond, Auckland, New Zealand
"Thank you MyBeau for a fantastic product, that has given my gorgeous poodle a new lease on life!"
"I started my 12 year old poodle on raw meat, chicken necks, veges and rice as part of a raw diet that I heard about, that was remarkably healthy for dogs, as they were never designed to be eating processed food. Many have allergies, or simply do not absorb what they need to be vibrant and healthy. In addition to her new diet, my groomer and vet suggested putting her on vitamins. I could not find any that sounded easy to use and interesting, until my vet (Dairy Flat) suggested palaMOUNTAINS MyBeau. I tried her on the liquid for a month, and noticed that her eyes were brighter, her energy levels were much better, and she had a real spring in her step! I have kept her on MyBeau daily for 2 ½ years now, and she truly is like a prancing puppy! Everyone who knows her is AMAZED at how bright and spry she is, her coat is rich and beautiful and she is a happy wee camper!And now she is 14 ½!

I would highly recommend palaMOUNTAINS MyBeau Bone & Joint for anyone who cares for and loves their precious pooch...it is a wonderful thing! And as all of us animal lovers know, we would do ANYTHING to prolong the health and happiness of our precious furry family members, wouldn't we?"