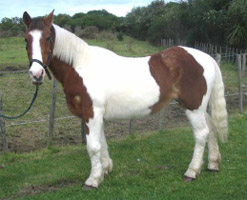 Diane Quirk
Owner of 'Lady' - 36yr old Clydesdale X Mare
Wanganui, New Zealand
"My Clydesdale cross mare 'Lady'  has now reached the grand age of 36."
She has always been well cared for and rather healthy but since she has been on palaMOUNTAINS Extreme Equine Plus, the changes have been noticeable. After not being ridden regularly in many years, now I find us out on rides a few times a week and she was charging out ahead of the group during a long trek the other weekend. Our vet has kept an eye on her these past years and was amazed during his recent visit as to how incredibly healthy she looked. Her coat has a great shine to it, her hooves are strong & healthy and she has a spring in her step. I totally believe that Extreme Equine Plus has added even more enjoyable years to her life and will always continue to use this wonderful product on all of my horses."