palaMOUNTAINS Vita Bee has been scientifically formulated by a Massey University's Food Scientist, Associate Professor Brian Wilkinson. The aim is to support the health and vitality of honey bees in the PRE and POST of the honey flow. This unique formulation provides essential dietary nutrients that are required in a bio available form.
The dietary requirements of Honey bees consists of proteins (amino acids), carbohydrates (sugars), lipids (fatty acids, sterols) and essential vitamins, minerals and water. However this is not always available in the natural environment due to complex and changing environmental factors; so therefore it is essential that these important nutrients are obtained through other external means. Honey bee nutrition is an important aspect of successful bee keeping and improving hive productivity.
‍
palaMOUNTAINS Vita Bee contains:
Proteins – These are primarily sourced from Brewer's Yeast and Whey Protein; they provide specific Amino Acids assisting with normal growth and development, reproduction and brood rearing.
Essential Fatty Acids (EFA) – The enriched omega oil base provides important lipids which are used for energy synthesis and the functioning of cellular membranes.
Multivitamins – containing a complex form of vitamins, both the important water soluble (B Vitamins) and fat soluble (A,D & E) along with ascorbic acid (Vitamin C) for optimal health and cellular repair.
Antioxidants – Containing minerals which are required for fighting free radicals and improving immunity.
‍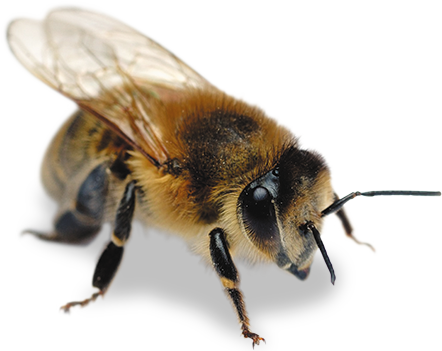 Conducted by RN Farrer - Reported November 2015 & updated March 2016
Neil Farrer Apiary Services Ltd.
Trial:

Consisted of feeding new VitaBee to bees during the summer and wintering 2015, summer 2016.

Feeding:

Wintering Down – Fed every three weeks 50mls / 2 litres of sugar syrup.
Spring Development – Fed Syrup 50ml / 2 litres of sugar syrup.
‍
From February/March 2015, a Trial Apiary was set up of 16 hives with new frame feeders and Queens.
Feeding new VitaBee product over the summer months with no ill effects. The bees consumed all the VitaBee product.
June lost 2 hives due to storm and 2 hives to Queen failure. The remaining 12 hives continued to grow and develop very well.
During April to August 2015 all hives were fed every three weeks.
September the hives were 'so strong' that 26 new hives (figure 1) were split from the remaining 12 hives. No production was sacrificed in the splitting showing excellent increase in brood population.
16 hives remained at the 'Trial Site' (Figure 2).  10 hives taken to a public berry garden (Figure 3).
All new hives received new Queen cells.
Two week check found 3 Queen cells hadn't produced Queens and received new Queen cells mid October.
Remarkably the new hives were very productive.
26 October 2015, inspected by AFB Pest Management Board – impressed with calmness of bees and the strength of the hives over other apiaries in the area.
RESULT: Average 2 honey supers per hive; yield average 25% above other similar apiaries in area.
10 hive site at public berry garden: Splits were located outside tunnel houses. Comment from garden owner that staff noted how quiet the bees were in the tunnel houses and around the berry gardens.
‍
view the trial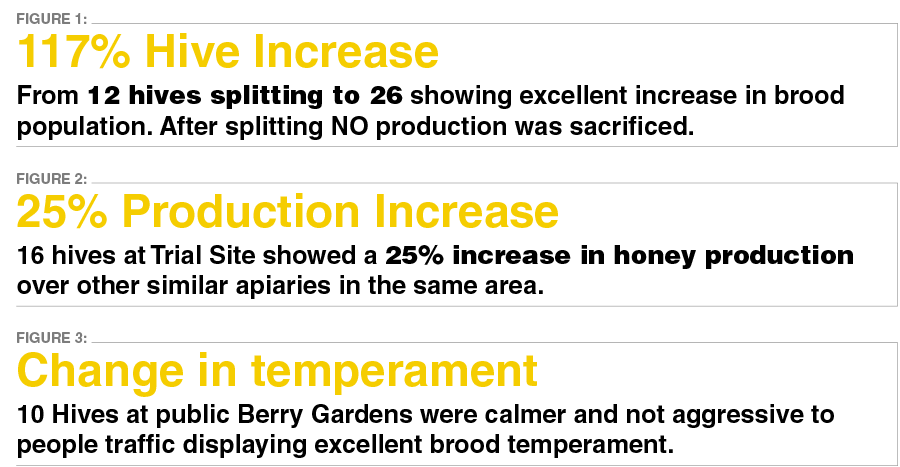 Bees come under stress due to the lack of good quality food in their environment; pests and diseases also exacerbated the problem.

To assist the NZ Bee Industry to supply the market demand and to improve or maintain healthier bee populations; palaMOUNTAINS VitaBee has been scientifically formulated by Massey University's Scientist, Assoc. Professor Brian Wilkinson. When fed into the hives during the PRE and POST of honey making, provides a bio available form of nutrients that bees readily uptake that stimulate the immune system by providing additional nutrition that is highly absorbed and utilised.

palaMOUNTAINS VitaBee contains essential nutrients such as proteins (amino acids), carbohydrates (sugars), lipids (EFA fatty acids, sterols), essential water & oil soluble vitamins, minerals and water; included in the diet will greatly assist Brood development while keeping a healthy hive.
‍
Stronger healthy bees = more brood = more bees = more honey production

An extended field trial of VitaBee has shown a 50% increase in the Brood and greatly reducing hive fatality. Further Massey University laboratory testing has resulted with no residue in the honey proving that the product is safe to feed.

Fill in the form here to send us a message.
‍
Freephone 0800 848 276
‍
Or talk to Corrie Palamountain - Equine Sales Manager - 021 607 082

We'll contact you with a price and discuss freight options with you.
Thank you! Your submission has been received, we will be in touch shortly!